Road trip recap: PlynkTM drives home impact of
small change
Plynk's whirlwind east-west tour connected with thousands of
beginner investors.
September 16, 2021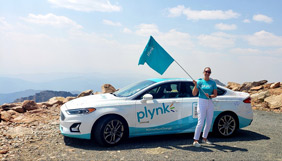 After 6 weeks traveling across the US, PlynkTM celebrated the end of the #DriveYourChange, opens in new window road trip atop Mt. Evans, Colorado.
We drove 2,200+ miles and visited 15 cities and towns, connecting with people about Plynk and the power of investing to transform lives.
A collective vision
At ball parks, concert venues and county fairs alike, we asked people "How do you #DriveYourChange, opens in new window?" and invited them to write their responses directly on the Plynk car. We encouraged folks to focus on the small steps they take each day that create a big impact over time.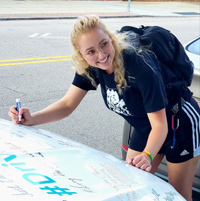 By the end of the trip the car was covered in notes from people across the country, creating a collective "vision board" of personal commitments.
Messages on the car read: "Finish school!" "Live with empathy." "Save 1% more so I can retire early." "Support my future family." "Stick to my budget." "Slow down and stress less."
We were excited by the stories of individuals we met along the way: Like Mark and Sally, new parents figuring out how to save and invest for their baby's future, and friends Morgan and Bria who are now learning how to invest alongside one another.
Highlighting pioneers of change
Plynk also drew inspiration from the many changemakers who shaped each city we visited. From the founders of Black Wall Street in Durham, North Carolina, who fostered entrepreneurship and drove prosperity, to the innovators behind the St. Louis Gateway Arch, designed as a symbol of growth and expansion to the west.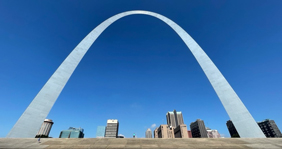 History shows us that even big, monumental-sized change starts with one person taking the first step. And we showed thousands of people how they can take their first step toward investing for the future with Plynk.
What's next?
Plynk continues to help new investors explore ways to grow their money—1 step and $1 at a time. We've made it easy to get started and learn along the way.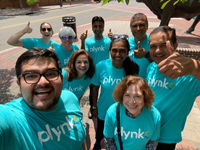 Where might we go next? Stay tuned—this is only just the beginning. Plynk will continue taking investors to new heights.
Relive the road trip on Instagram, opens in new window and Twitter, opens in new window, (@PlynkInvest) and check out #DriveYourChange, opens in new window for stories from our community.