Introducing
Plynk Crypto
Learn then trade all on one app with Plynk Crypto™. We've teamed up with Paxos Trust Co. to bring you a simplified trading experience.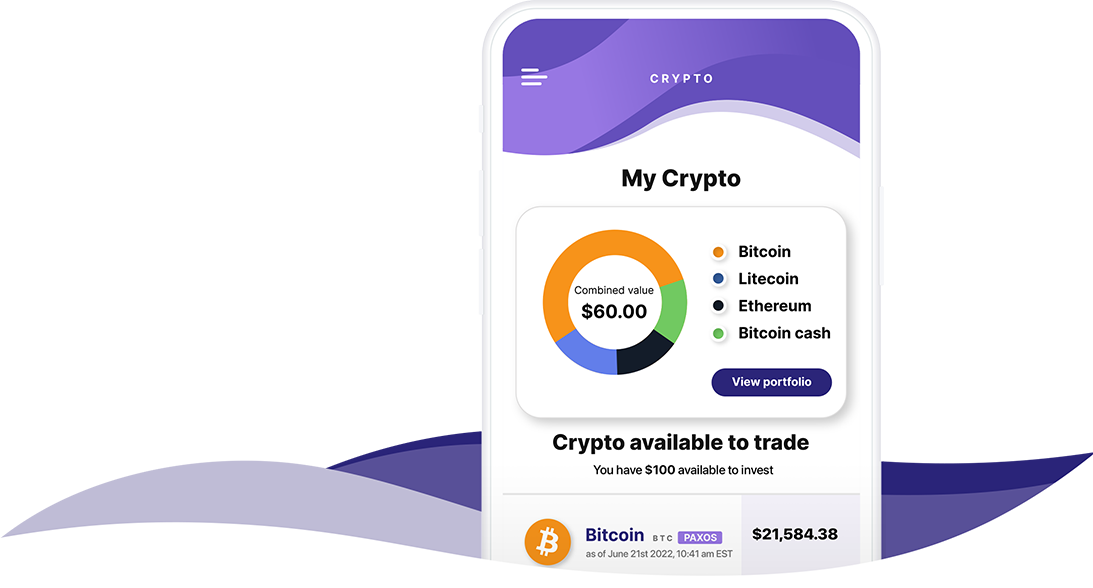 Start with as little

as $1

Simplified trade experience

Learn crypto basics with tips

and how-tos
Buying $100 of Bitcoin
$0.50
Stash Growth
$1
Cashapp
$2.26
Coinbase
$3.84
Competitors listed are top competitors who do not receive payment for order flow. $100 is used as a proxy for comparison. On $100 trades and above, Paxos assesses a 0.5% transaction fee. The transaction fee is added to the value of the trade per transaction. Competitor information is based on a point in time based on publicly available information. Fees apply to individual crypto trades. See crypto fee schedule for details. Before opening an account or investing, please carefully consider the fees, benefits and services of any provider.
Build your crypto knowledge
Crypto and stocks: What's the difference?

2 minute read

Riding the crypto ups & downs

2 minute read

Crypto basics

2 minute read

What is Bitcoin?

2 minute read

What is Litecoin?

1 minute read

What is Ethereum?

1 minute read

What is Bitcoin Cash?

2 minute read
Plynk Crypto FAQs
What is cryptocurrency?
In general, cryptocurrency—crypto for short—is digital currency that can be transferred from person to person without using a third party, like a bank.
Who is eligible to trade crypto?
Any user who already has a brokerage account in the Plynk app can apply for a crypto account offered by Paxos. Paxos may choose to approve or deny your crypto account.
Unfortunately, if you have been notified by the IRS that you are subject to backup withholding, you are not eligible to open a crypto account with Paxos.
You must be physically located in the 50 United States, its territories, or the District of Columbia to place trades with Paxos.
Who is Paxos?
Plynk has teamed up with a licensed company called Paxos Trust Co. ("Paxos" for short), to offer crypto trading in the app. Paxos performs all crypto-related trades in the Plynk app and serves as your "custodian" for all crypto assets.
If you choose to open a crypto account in the Plynk app, you agree to let Plynk provide your information to Paxos to create an account in your name. You will be required to sign Paxos' Customer Terms and Conditions.
Paxos is a registered Money Service Business and New York Limited Trust Company, (NMLS #1766787).
Are there any fees on crypto trades?
Yes. For each crypto trade $100 or under, there is a minimum fee of $0.50. For each crypto trade above $100, there's a 0.5% fee.
Crypto fees are added to the amount of your crypto trade. For example, if you buy $10 worth of crypto, the total amount you'd pay would be $10.50 with fees. If you buy $200 worth of crypto, the total amount you'd pay would be $201.00 with fees.
There are no added spreads, markups, or custody fees.